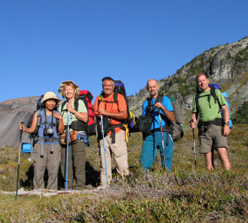 Vista Trails specialises in small group travel. We can cater for groups of friends, family or clubs up to 12 persons. Your whole Group holiday is arranged to suit your group and can either be one of our recommended itineries or a totally bespoke holiday. We are proud of our high level of personal service and our adaptability during your holiday to ensure it meets all your expectations.
We would suggest the following Itineries for your holiday. You may of course book any of our other point to point or single centre walking holidays for your group and we would be happy to give you a quote for a discount if booking 6 or more persons travelling together.
We can offer bespoke holidays to include a selection of our destinations and can offer excellent walking tours taking in 3 National Parks and including all the main places of interest in Montenegro.
Single Centre Coastal Walking – The walking is graded moderate with some easy walks. An all inclusive Montenegro Coastal walking holiday based in one of our lovely Villas at a great price of £595 pp for 7 nights. No single supplement and a discount available if booking more than 6 persons. Everything for the whole week is covered including all meals and drinks, airport transfers and all your walking requirements Not only do you have some fantastic scenic walks but you also get a day to visit the ancient Venetian built town of Perast and a boat trip to the two offshore islands of Our Lady of the Rock. If you have non walkers in the party you can transfer to the places of interest such as Kotor and Cetinje by mini bus.
Single Centre & Multi Centre National Parks
The walking is on the high plateaus' and is easy to moderate. This is a great escorted holiday to 3 mountain ranges. Hugh Chapman will be on hand to make sure you do not miss any of the fantastic scenery and culture in the Sinjavena, Biogradska Gora and Komovi mountains. The holiday is 7 nights bed and breakfast and has 4 nights in Kolasin in a 3 star plus hotel, 2 nights in the foothills of Komovi mountain and your last night in Tivat on the coast. All transport is included.
This holiday is £695 pp for 2 sharing a twin or double room including all transfers and guides where needed. Single supplement quoted for at time of booking will apply. Discount available for more than 6 persons booking together or if flying into Podgorica airport. If flying into Podgorica airport the final night will be in Podgorica.
These mountain ranges offer unspoilt countryside where the traditional way of life is still practised. You can walk through the Katuns where the shepherds live in the summer with flocks of sheep. They herd the sheep from the backs of ponies and carry water on wooden saddles.
Our Special Group Services
Designated Host for Your Holiday
Vista Trails have first hand expert knowledge of the areas you walk and your host for the week will be Hugh Chapman. Having spent 10 years in Kenya working in some of the most off- the- beaten track locations he is great company on a walk, an excellent organizer and can offer advice on walks and hikes. He will collect you from your chosen airport and accompany the group throughout the week. He is available 24/7 to take care of any requests and ensure the smooth running of your holiday.
Exclusive use Transport
Your transport is a comfortable mini bus with air conditioning and this is available during the week if you require a pick up or drop off to one of the further points on a walk.
Guides / Self Guided
We provide trail packs and maps to enable you to self guide however Hugh is available to guide walks and we can offer highly experienced mountain guides to lead the higher grade hikes should you so wish at 80 euros a day. You benefit from excellent support but the freedom for the group to walk together or in smaller groups.
Accommodation & Meals
All our chosen accommodation we have inspected and met the owners so you can be sure of a warm welcome and good service. We prefer small cosy hotels that take in the local culture of the area and provide a more personal service. There are no buffets at this type of hotel enabling you to choose food direct off the menu. People's requirements for lunch vary so you can purchase your lunch from the local deli counters, bakeries and supermarkets or order a packed lunch from your hotel.