The Daddy of them all! Walk the trails or climb the peaks it is up to you. This holiday will leave your senses in a daze with unrivalled views only recently opened up to walkers and local culture of a very different kind! 3 nights B&B Durmitor National Park, 2 nights B&B Prokletije National Park, 1 night B&B Komovi National Park, 1 night B&B Tivat Driver / guide for 7 days
HIGHLIGHTS
Durmitor Bobotov Kuk, Prokletije Maja Kolata and Komovi three great climbs!
Durmitor National Park
The largest in Montenegro it was designated a nationalpark in 1978 and since 1980 has been on the UNESCOWorld heritage list. It embraces within the Durmitor Massifnearly 50 peaks that reach to over 2000 meters. Ringed bylakes fed by melting snow from the peaks it is hometomanyvarietiesofplant and bird life and high on the peaksyou find wild mammals sucasbrownbear, grey wolf and chamois. On the lower slopes there are woods of pine and alpine meadows. It is without doubt the most unspoilt area in Europe and due to its relative inaccessibility it has an air of complete peace. Walking direct from your accommodation no transfers required! Grades of Walk – Durmitor has approx 18 routed walks of varying grades from easy to full mountaineering hikes. There are 6 walks of 3/6 hours graded easy/ moderate that explore the forests and Black Lake near Zabjlak. Lokvice Valley has several walks of 3/5 hours, graded easy to moderate. To follow are walks that explore some of the peaks of Durmitor. Planinica Peak(2330m) is a 7/8 hour walk with a 900 meter climb. Medjed Peak (2287m) is a circular route with 729m of climbing and 5/6 hrs hard in places. Savin Kuk Peak (2313m) takes 6 hrs with a 897m climb . Bobotov Kuk Peak (2523m) takes 6hrs with a 1067 climb. Sljeme Peak (2455m) 1039m of climbing takes 7hrs and is hard in places. Prutas Peak (2393m) requires a short transfer and takes 4/5 hours with a 693m climb.
This holiday includes 3 big climbs alternative routes are available in the same areas for party members who may not wish to climb.
Day 1. Transfer from your airport to Durmitor National Park stopping en route for refreshments. From Dubrovnik it takes approx 4 hours and from Podgorica 3 hrs. Maps and information on arrival.
Day 2. Warm up with a walk / climb up Savin Kuk Peak(2313) 6 hours 897m climb or take an easier warm up climbing up through the lakes that ring Durmitor.
Day 3. The big one Bobotov Kuk Peak ( 2523) 6 hours 1067m climb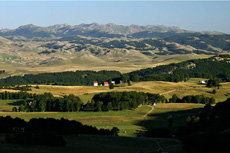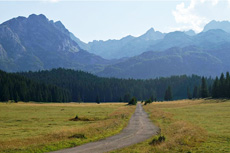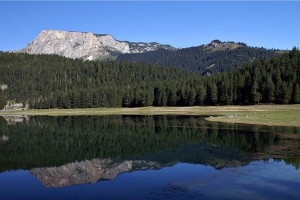 Prokletije Mountains


has a fantastic panorama, wide, flowery and green valleys, steep mountainsides, peaks pushing skywards, idyllic meadows,prokletje purling brooks and sight for the gods. But before everything else its most important characters are wildness and being undiscovered. This is what summitpost say .. "It is almost impossible to find any travel report about the mountains because they do not exist. People are friendly, hospitable and the visitor is not threatened by any danger. Nevertheless, the atmosphere of the whole mountain range is extremely mysterious and wild. You can reach to passes and peaks where foreign tourists have never ever been and this gives the excitement of real discovery " The highest peak and in dispute with Bobotov Kuk as to which is the highest in Montenegro is Maja Kolata (2534m) and that is the peak we have included in the itinery. Check out the links for an abundance of fantastic photos and don't be put off the routes are quite attainable using valleys and natural slopes to wind up to the peaks! www.balkansgeotourism.travelpsd-prokletije.org www.facebook.com/pages/psd-prokletije/119990338020176 www.summitpost.org/prokletije/153694
Day 4 Transfer to the Prokletije ( 3 to 4 hours) afternoon valley walk through an amazing scenic area with springs shooting out from the ground and a reverse waterfall all along the route is traditional farming and a sense of being on the edge of a wilderness. 3 hours mainly level.Overnight Plav
Day 5 An early start as today we climb Maja Kolata and return. The first 2/3 rds of the climb is moderate with the last 1/3rd difficult with some scrambling and narrow paths. Touching on the Albanian border this is truly remote. You may have a guide if you wish and we put in place safety procedures as there is no mobile phone signal.(2534m) 1500m climb 10 hrs + depending on fitness Overnight Plav.
Komovi National Park
Komovi is the third highest mountain formation in Montenegro situated between the Kuči mountains and Bjelasica. It is known for its exceptional beautiful peaks, more or less accessible in winter and in summer. Highest landscapes consist of two almost parallel ridges with three highest peaks , each of these three peaks is named after one of the tribes who lived on this mountain and Komovi means a Dragon ! At the foot of Vasojeviki Kom is a green plateau and all the walks start from here. The trail to the nearest peak Vasojevićki Kom is steep but not technically difficult in summer. Kom Kučki is further away and you need to pass through Međukomlje to reach it and it does have some narrow ledges. We have walked here in the summer and it is an exciting and different landscape with challenging peaks. www.komovi.com
Day 6 A 45 minute drive brings you to within sight of Komovi the first glimpse is always a shock as the bare rock rises mightily from the green meadows and forests that surround the base. Walking here is to suit your ability you can keep to the meadows and lower slopes or you can tackle one of the peaks. These are well marked and walked in August by the locals but do involve some scrambling in places. If you venture into the valley between the two peaks at the highest point is a book for recording your climb. This is without doubt a strange and distant place looking like something from another planet we have walked here always alone and have never left without a sense of awe and achievement. It is something not to be missed! (2115m) 782m climb 5 hours. Overnight Kolasin.

Day 7 Depart at leisure for the Coastal town of Tivat. Overnight Tivat
Day 8 Transfer after breakfast for your departure airport
Your holiday includes – 7 nights Bed and Breakfast accommodation in 3 star or similar hotel, trail transfers, 24/7 Host, All National Park fees, Tourist tax and insurance, Trail Packs & Maps, Dedicated driver / guide for 7 nights.
It does not include – Flights, Drinks, Lunches, Personal spending, personal extra guides,Travel Insurance (obligatory)
Dates
June 30th to October 31st (holiday may be able to start earlier depending on weather conditions in the mountains) any start date
Cost for this holiday £750 pp sharing
Return Airport transfer – All airport transfers included from Dubrovnik, Podgorica and Tivat.