Walk the ring of Lakes or climb a peak in Durmitor, visit the untouched landscapes of the Sinjavena and Komovi. This is a 2 centre holiday that tailors the walking to suit you. HIGHLIGHTS The Durmitor Ring and Savin Kuk, Untouched Sinjavena, Komovi National Park a shock to the senses.
3 nights B&B Durmitor National Park, 3 nights B&B Sinjavena / Komovi National Parks, 1 night B&B Tivat Driver / guide for 4 days in Sinjavena / Komovi
Durmitor National Park
The largest in Montenegro it was designated a national park in 1978 and since 1980 has been on the UNESCOWorld heritage list. It embraces within the Durmitor Massifnearly 50 peaks that reach to over 2000 meters. Ringed bylakes fed by melting snow from the peaks it is hometomanyvarietiesofplant and bird life and high on the peaksyou find wild mammals sucasbrownbear, grey wolf and chamois. On the lower slopes there are woods of pine and alpine meadows. It is without doubt the most unspoilt area in Europe and due to its relative inaccessibility it has an air of complete peace. Walking direct from your accommodation no transfers required! Grades of Walk – Durmitor has approx 18 routed walks of varying grades from easy to full mountaineering hikes. There are 6 walks of 3/6 hours graded easy/ moderate that explore the forests and Black Lake near Zabjlak. Lokvice Valley has several walks of 3/5 hours, graded easy to moderate. To follow are walks that explore some of the peaks of Durmitor. Planinica Peak(2330m) is a 7/8 hour walk with a 900 meter climb. Medjed Peak (2287m) is a circular route with 729m of climbing and 5/6 hrs hard in places. Savin Kuk Peak (2313m) takes 6 hrs with a 897m climb . Bobotov Kuk Peak (2523m) takes 6hrs with a 1067 climb. Sljeme Peak (2455m) 1039m of climbing takes 7hrs and is hard in places. Prutas Peak (2393m) requires a short transfer and takes 4/5 hours with a 693m climb.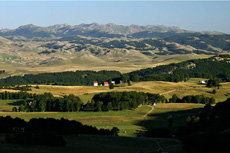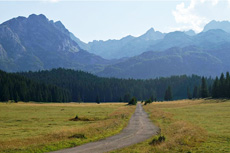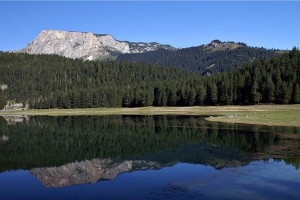 This holiday includes 3 big climbs alternative routes are available in the same areas for party members who may not wish to climb.
Day 1. Transfer from your airport to Durmitor National Park stopping en route for refreshments. From Dubrovnik it takes approx 4 hours and from Podgorica 3 hrs. Maps and information on arrival.
Day 2. Choose your walk for the day perhaps walking past the Lakes to see the great views over the park.
Day 3. Choose your walk for the day.
Day 4. Hugh will meet you this morning and transfer you via the Tara Canyon to Kolasin your base for the next 3 nights. On the way you can have a go at the Canyon Zip wire not for the faint hearted ! Hugh will arrange an afternoon excursion into the Bijelasca National Park where you can walk around the lake.
Day 5. After breakfast head up by transport to the base of the Sinjavena range a 2 hour walk takes you up a winding path to the flat plateau and then it is another 2 hour walk across to the Katuns – traditional summer shepherds huts. The place is stunning as not only are the views incredible but life continues here as it has for centuries. You will see herds of sheep with shepherds on ponies with wooden saddles, women collecting water with mules or ponies and friendly people everywhere. Many of our guests are welcomed into the Katuns and given local cheese and brandy all quite spontaneously. This is not a tourist attraction it is a fantastic traditional way of life that is a privilege to see. Descend through wild flower meadows and the strange beehive shaped hay stacks and you will be met by Hugh to drive back to Kolasin for the evening.
Walk: mainly level easy, moderate short climb at the start

Day 6. A 45 minute drive brings you to within sight of Komovi the first glimpse is always a shock as the bare rock rises mightily from the green meadows and forests that surround the base. Walking here is to suit your ability you can keep to the meadows and lower slopes or you can tackle one of the peaks. These are well marked and walked in August by the locals but do involve some scrambling in places. If you venture into the valley between the two peaks at the highest point is a book for recording your climb. This is without doubt a strange and distant place looking like something from another planet we have walked here always alone and have never left without a sense of awe and achievement. It is something not to be missed! After walking return to your Hotel.
Walks: Lower slopes easy, Peaks moderate to difficult. Can include some narrow paths and short areas of scrambling. (2115m) 782m climb 5 hours. See www.komovi.com, www.nparkovi.me for more details.

Day 7. Depart at leisure for the Coastal town of Tivat. If you wish to walk today an early start will mean you are in Tivat in time to do one of several local walks either Lustica Olive Trail, Vrmac to Kotor Trail etc.
Day 8. Transfer after breakfast.
Your holiday includes – 7 nights Bed and Breakfast accommodation in 3 star or similar hotel, trail transfers, 24/7 Host, All National Park fees, Tourist tax and insurance, Trail Packs & Maps, Dedicated driver / guide for 4 nights.
It does not include – Flights, Drinks, Lunches, Personal spending, personal extra guides,Travel Insurance (obligatory)
Dates
June to October 31st any start date
Costs
Durmitor Sinjavena Komovi National Parks £695 pp sharing
4 star upgrade £70 pppw
Return Airport Transfers – All airport transfers included from Dubrovnik, Podgorica and Tivat.