7 nights BB Self guided point to point with luggage transfer / daily transfer walking, local travel by boat and train plus Driver / Guide. Starting by the sea in Tivat and ending on the high plateau of the Sinjavena travelling through the country this is a holiday with endless new vistas!
Highlights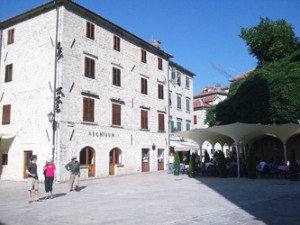 Kotor ( UNESCO ) Lovcen National Park, Lake Skadar, Moraca Canyon, Sinjavena Mountains
Walking easy to moderate 4 – 6 hours a day
Day 1 – Arrive and transfer to the UNESCO Heritage town of Kotor . Relax explore the town and meet with Hugh and go through your walking itinerary and information.
Day 2 – Kotor to Njegusi After a relaxing night exploring the cobbled streets of Kotor you have a good climb from Kotor to the old mountain village of Njegusi. The walk starts beside the walls of the old fortifications before it joins a centuries old traders route that you will be following all the way to Skadar it was once the only access to Kotor from Centinje and the interior of the country. The path winds up the mountain with stunning views all the way before levelling out as you walk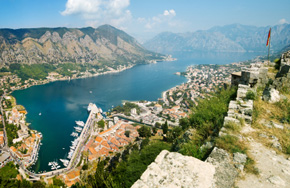 through the hamlet of Krstac and then on to Njegusi . day4-1Njegusi is renowned for it's production of the special Njegusi cheese and smoked ham which are the national dishes of Montenegro and produce is for sale at way side kiosks. The delicacies have been transported in the past along the very trade route that you will be walking ! Njegusi is also the birthplace of all the Kings and rulers of Montenegro. Enjoy a well earned rest at your accommodation. Distance 10km Time: 5 hours Grade: Moderate/ difficult Climb: sea level to 878m (for those not wishing to walk all of the climb they can transfer by car and pick the trail up as it crosses the road)
Day 3 – Njegusi to Cetinje – Today is an easier walk to the Old Royal Capital of Cetinje. This stunning walk takes you through the beautiful wild countryside via the old traders route. You gently descend all the way to the ancient Royal Capital of Montenegro. You have plenty of time to delve into it's history and appreciate the architecture of the old palaces and the embassies as well as an ancient monastery. Stay at a comfortable pension. Distance: 12km Time: 3.5 hrs Grade: EasySkada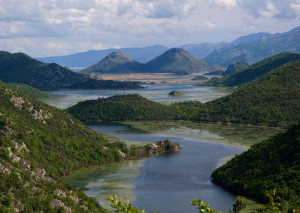 Day 4 – Cetinje to Rijeka – Leave Cetinje behind you as once again you descend down an old trade route & donkey paths to the village of Rijeka. A tiny village beside one of the rivers that is a source of Lake Skadar. You will experience amazing tranquility as you pass through tiny hamlets, famed for their wine and brandy production, with stunning vistas down to Lake Skadar. In season enjoy a boat ride on the river and marvel at the thousands of water lilies as they dance on the water. This ancient tiny hamlet was once home to a thriving fishing industry and was a key strong hold in the Austro Hungarian and Turkish battles for the Serbians. . There are two optional diversions before you descend you can visit a very old cave and when you arrive in Rijeka there are two circular walks if you wish to stretch your legs further however they do contain a couple of short sharp climbs. You will then take a boat down the river as it meanders out on to Lake Skada before being dropped off at the small town of Virpazar on the shore were your hotel is based. Distance: 13km Time: 3-4 hours Grade: Easy /Moderate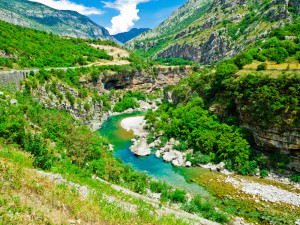 Day 5 Virpizar to Sinjavena
Your transport picks you up after breakfast and it is a 30 minute drive to catch the morning train in the capital Podgorica. The train is actually on its way to Belgrade and the first stop is Kolasin which is a mountain town – gateway to the Sinjavena. Sit on the left of the train or stand in the corridor once you are clear of the town as the views are quite astonishing the azure blue Moraca river runs like a thread hundreds of feet below and the train ( quite safely !) defies gravity. Alight at Kolasin and walk down in to the town to your Hotel. Hugh will meet you and arrange an afternoon excursion into the Bjelisica National Park where you can walk around the lake.
Day 6 The Sinjavena
After breakfast head up by transport to the base of the Sinjavena range a 2 hour walk takes you up a winding path to the flat plateau and then it is another 2 hour walk across to the Katuns – traditional summer shepherds huts. The place is stunning as not only are the views incredible but life continues here as it has for centuries. You will see herds of sheep with shepherds on ponies with wooden saddles, women collecting water with mules or ponies and friendly people everywhere. Many of our guests are welcomed into the Katuns and given local cheese and brandy all quite spontaneously. This is not a tourist attraction it is a fantastic traditional way of life that is a privilege to see. Descend through wild flower meadows and the strange beehive shaped hay stacks and you will be met by Hugh to drive back to Kolasin for the evening. Walks are mainly level easy to moderate.

Day 7 Walking in The Bijelasca NP or transferring to Tivat depending on your departure airport.
Day 8 – Transfer to aiprort and depart
Your holiday includes
4 nights 3 star BB, 3 nights 4 star plus Hotel Bianca on half board inc use of spa and pool.
£725 pp sharing ex flights.
It does not include Flights, Drinks, Lunches, Personal spending, Travel Insurance (obligatory)
Dates May 1st to October 31st any start date
Cost Montenegro Traveller Special £725 Bespoke option only. On enquiry we will arrange an itinerary to suit your travel arrangements.
Return Airport Transfers – All airport transfers included from Dubrovnik, Podgorica and Tivat.