7 Nights staying All Inclusive in Lustica Villas
Take this holiday at your own pace and enjoy all the spectacular highlights of the UNESCO Heritage towns, Lustica Peninsular, Lovcen National Park and Lake Skadar
7 nights B&B or All Inclusive single centre coast and mountains with daily transfer or walking from the door
Short breaks of 3 or 4 nights also available
Treat yourself to a totally stress free walking holiday in one of our luxury villas on the Lustica Peninsular. For groups we have the 6 bedroom Villa Mandelina with spacious rooms and a private pool or for 2 guests Villa Josephina is a striking Villa with a private pool and far reaching sea views. Villa Josephina is only available for exclusive use so you will have total privacy or you can book with up to 4 friends on the same booking. We cook and serve all your meals in your villa and the walking is some of the best in Montenegro.
This holiday is not available from mid July to end August.
Check out of Villa web site for full information on the accommodation www.montenegrovillaholiday.com
Your Bed and Breakfast holiday includes
Accommodation in a 3 star hotel / 4 star Villa (hotel upgrades available on request) All Breakfasts ,Transport to and from Trails , Information packs on the area , Trail Packs , 24/7 In Country Host & Trail Support.
It does not include
Lunches / Eve Meals, Flights, Personal spending, Extra activities, Travel Insurance.
Costs
Single Centre Coastal Mountains B&B Option £595 pp
Return Airport Transfer – All airport transfers included from Dubrovnik, Podgorica and Tivat.
All inclusive Lustica Villas Holiday
Dates: 19th April – to mid July and 28 August to Mid October. Any start date
Your holiday includes
Accommodation in 4 star Villa, All Inclusive option includes Hot breakfast, packed lunch, tea & cakes, Supper , wine ,beer, local spirits and water.
Airport transfers, Transport to and from Trails , Information packs on the area , Trail Packs , 24/7 In Country Host & Trail Support.
It does not include
Flights, Personal spending, Extra activities, Travel Insurance.
Costs
Coastal Single Centre Holiday AI Lustica Villas £650 pp sharing ex. Flights.
NO SINGLE SUPPLEMENT
Return Transfers: All transfers are included.
Coastal Mountains Lustica Villas B&B or All Inclusive

For this option you stay at the private 4* Villa Mandelina or Villa Josephina. The villas offer everything you need to relax after your walks. Chill out on the terraces with amazing views across the Adriatic, Boka Bay & Lovcen Massif. Situated on the beautiful Lustica Peninsula just 5 mins from the beach and 15 mins drive into Tivat or Kotor for some café culture, bars and nightlife!
Villa Mandelina and Josephina are full of character and charm. Villa Mandelina can sleep 12. Enjoy the use of the comfortable lounge or sit and enjoy the sun on one of the many terraces with sea views. Help yourself to tea, coffee and drinks from the beverage bar. Enjoy home cooked hearty meals taken outside on the dining terrace or in the main dining room.
There is a flat deck Roman style pool (sun all day) with large fully equipped sun terraces, lawns and landscaped gardens. The grounds surround the house and have a games area with table tennis, volley ball etc.
Villa Josephina has 3 double bedrooms and spectacular views with a private pool and sun terraces. Josephina is only available on an exclusive use basis for 2 guests or up to 6 friends booking together.
Each day of this Montenegro walking holiday will enthral you with the views and points of interest. Every walk has been personally tested and recommended by your host. On your walks you will see many signs of wildlife from sunbathing lizards to the rooting of wild boar, jackals, tortoise and if you are lucky a sight of an eagle as it soars above plus the added benefit of being near the beach! Walks start from the door or with a short transfer.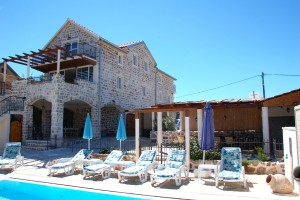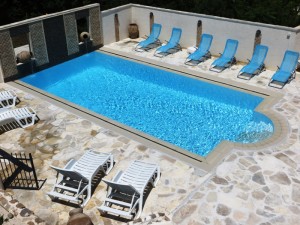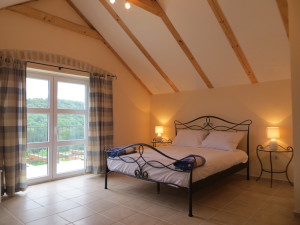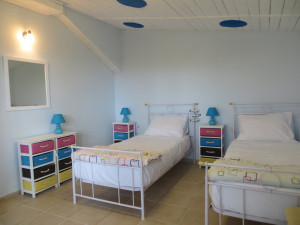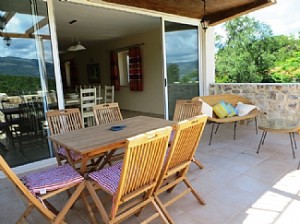 Day 1 – Arrive and transfer to your accommodation, relax and meet your in country host to go through the walks and receive your trail information.
Day 2 – Lustica Olive Trail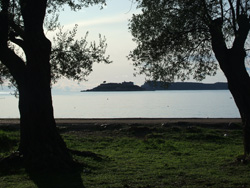 The Lustica peninsular was one the most important olive growing areas in Montenegro. This walk lets you experience the beauty and tranquillity of the olive groves some dating back to the Venetian period. Experience the pace of local life as you walk and even say hello to a passing cow. Highlights include stunning views of Boka Bay and the Adriatic Sea, lunch amongst the olives at Zanjice beach with views to an old island fort and finish at the quaint fishing village of Fort Rose. Walk from the door with pick up at Rose. Distance: 16.5km Time: 5 hours Grade: Easy.
Day 3 – Vrmac Fort Trail
Montenegro is full of history with many Austro Hungarian Forts, this walk takes you up to the large fort of Vrmac over looking both the Adriatic Sea & Kotor fjord. Enjoy exploring the fort and woodland paths before heading off along the ridge to stunning views, descend along an old track with glimpses of the sea below. Visit the old village of Gorjna Lastva and then descend down to the narrow mouth of the fjord, relax with a drink by the water. 5 min transfer to trail and pick up at the end. Distance 16km Time: 6 hours Grade: Moderate Climb 380m Decent 765m to sea level.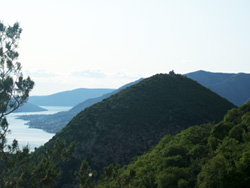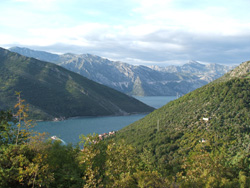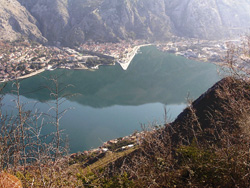 Day 4 – King Petar's Trail – Lovcen National Park
The Lovcen Massif is a beautiful area. The National Park has endless paths for all abilities (we advise on what paths for you to do) that take in the Beech Woods and rocky ridges with fantastic views and a great ascent to the mausoleum of King Petra of Montenegro. Lovcen is definitely not one to be missed. There is an optional descent from the Park to the old town of Kotor via an old trade route which was once the only route to Kotor, it is a great walk down, a bit narrow in places but worth it for the views. 30 min transfer to National Park (takes out a very steep climb). Distance: 17km Time: 6 hours Grade: Easy to Hard Moderate depending on routes Optional Decent 1657m to sea level.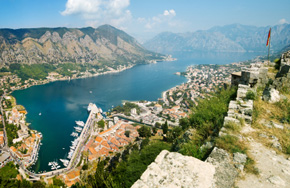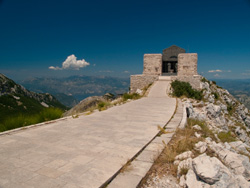 Day 5 – Kotor UNESCO World Heritage Site
Kotor is an ancient fortified town with tiny cobbled streets, churches, old palaces and museums. Explore the town and enjoy a coffee at one of the vibrant cafes before walking round the fortifications. Marvel at the walls and the people who built them as they climb up the side of the mountain round the town. At the top enjoy the stunning views across the fjord. 15 mins transfer to Kotor. Distance: 5km Time: 3 hours Grade: Moderate.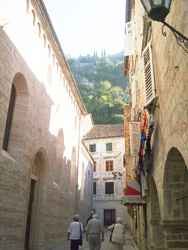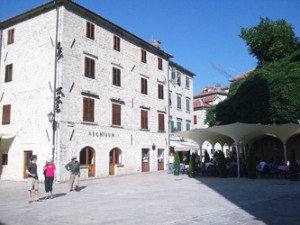 Day 6 – Royal Palaces & Lake Skadar Trail
Your walk starts with a visit to Cetinje the old Royal Capital of Montenegro, a pretty town home to the beautiful old embassy buildings and Monastery. Your walk descends all the way down an old trade route to the village of Rijeka a tiny village beside one of the rivers that is a source of Lake Skadar. You will experience amazing tranquillity as you pass through tiny hamlets with stunning vistas down to Lake Skadar. In season enjoy a boat ride on the river and marvel at the thousands of water lilies as they dance on the water. Distance: 16km Time: 5 – 6 hours Grade: Moderate.

Day 7 – Poda to Budva
From above the tiny hamlet of Poda you strike out on a path that will take you up beside a stream onto the saddle between the peaks of Golis & Lovcen. With stunning views of the coastline, the tiny island of Sveti Stefan and the ancient town of Budva it is a magical place so quite and peaceful you will want to enjoy it for a few minutes before heading off. The single track meanders down hill and through an oak wood with views all the way before you come to Stanjevici Monastery. If your lucky you may be invited in for tea & cake and a short tour. Carry on down all the way to the ancient town of Budva where you can wander round the cobbled streets and marvel at the yachts whilst you enjoy an ice cream. Approx 13km 4 – 5 hours walking Grade: easy to medium.
Day 8 – Relax and Depart
Single Centre All Inclusive – sample menu
Our meals are all freshly cooked. We have a 24/7 beverage bar with teas, filter coffee, Decaf coffee, hot chocolate and drinking water. We cater for all tastes and have a range of dishes for vegetarians. You are welcome to bring your own choice of spirits and we will supply the mixers and ice.
Breakfast
Cereals, Fruit juices, Fresh local baked breads, seasonal fruits blueberries, raspberries, figs, strawberries cherries, local yogurts (delicious)! Homemade jams and local honey. Scrambled eggs, pancetta, sausages, mushrooms etc
Packed lunch
A selection of bread rolls, cheeses, ham & cold meats, salads and fruit. Cereal bars, biscuits and cake.
Supper
Local estate wines red, white and rose , beer , water and local Rakjia
3 courses are served every evening plus cheeses and the menu reflects what is available locally from the market. We discuss your preferences in the morning and tailor the menu to suit our guests.
Sample dishes
First course :
Mediterranean roasted peppers with feta, pancetta basil and tomatoes, sardine and lemon pate, variety of soups, lemon marinated local trout, moroccan spiced pork pots, homemade huumus,pates & terrines.
Main courses :
Fillets of local sea bass with minted pea mash and Black rice
Seafood casserole with local Fish and a homemade tomato base
Whole local trout poached in white wine, lemon and thyme
Squid on the BBQ
Pork fillet with sage cream sauce
Local roast lamb and all the trimmIngs
Beef fillet marinated in red wine and herbs
Variety of pasta dishes on request
Fresh local vegetables
Deserts :
We always have a choice of desert
British trifle, Chocolate and nut flan, fresh fruit in season, local gateaux, lemon cups, bread and butter pudding etc
Local Cheeses, crackers and breads.
Coffee, teas and local brandies.