Durmitor National Park is a Unesco World Heritage site known as the resting place of the Gods and the pillar of the skies. It is steeped in legend and offers fantastic wilderness walking with a huge variety of walks from easy to the most challenging. Walk from the door and discover the Black Lake and Valley of the Lakes, meander through the pine forests and take on the peaks, no crowds just you and the beautiful wild landscapes!
Day 1 – Arrive and transfer to Zabljak your base for the week. Zabljak is a tiny town situated within the National Park. It is the highest town in the Balkans at 1456m above sea level. You stay at a charming and comfortable family run hotel on a half board basis. Transfers are between 3 to 5 hours depending on your arrival airport.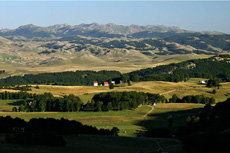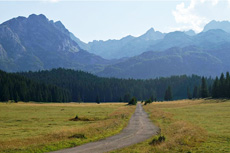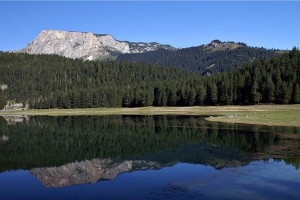 Day 2 – 7 Meet your local contact and receive your maps and plan your weeks walking with their advice. There are 18 listed recommended walks, most are way marked for easier navigation. You can have a guide each day or the use of a guide on certain walks it is your choice. Some walks are recommended guided and others do require a certain level of equipment to scale some areas.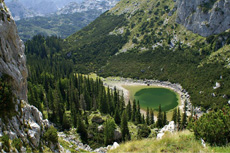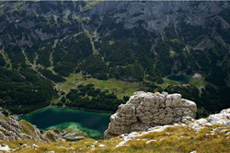 There are walks for all levels and no one will be disappointed. Your local contact will inform you about all the walks and you can organise a suitable itinerary with him. They will also brief you on safety regarding weather and mountain rescue. They are on hand throughout your week to offer advice and support should you require it.
Grades of Walk – Durmitor has approx 18 routed walks of varying grades from easy to full mountaineering hikes. There are 6 walks of 3/6 hours graded easy/moderate that explore the forests and Black Lake near Zabjlak. Lokvice Valley has several easy walks of 3/5 hours, graded easy to moderate. To follow are walks that explore some of the peaks of Durmitor. Planinica Peak(2330m) is a 7/8 hour walk with a 900 meter climb. Medjed Peak (2287m) is a circular route with 729m of climbing and 5/6 hrs hard in places. Savin Kuk Peak (2313m) takes 6 hrs with a 897m climb . Bobotov Kuk Peak (2523m) takes 6hrs with a 1067 climb. Sljeme Peak (2455m) 1039m of climbing takes 7hrs and is hard in places. Prutas Peak (2393m) requires a short transfer and takes 4/5 hours with a 693m climb.
If you fancy resting your legs one day you can take an excursion to the Tara Canyon and even have a go at rafting!
Accommodation & Meals – The accommodation is in 3 star small family run hotels where you will receive a warm welcome and walk directly from the door. The holiday is B&B. Generally rooms in Montenegro are double or triple rooms and you may find that some are small apartments with a kitchen. If you require a single room a supplement may apply and the amount would be confirmed at time of booking. The food is simple and well cooked. You can buy your lunch from the local deli counters, bakeries & supermarkets.
Your holiday includes – B&B accommodation in 3 star or similar hotel with restaurant and bar, 24/7 Host, National Park fees, Tourist tax and insurance, Trail Packs & Maps.
It does not include – Flights, Drinks, Personal spending, guides and mountain huts, Extra activities, Travel Insurance (obligatory)
Dates – Available between 1st June and 31st October. Any departure date
Additional Activities – An additional activity in the NP is white water rafting in the Tara Canyon approx 45 euro per person inc transfers and lunch.
Cost of Durmitor Single Center Holiday
3 star – Bed and Breakfast £595 pp sharing ex. flights
4 star – Bed and Breakfast plus £70 pppw
Return Transfers – All airport transfers included from Dubrovnik, Podgorica and Tivat.