News from Montenegro from Hugh Your In Country Host
This season 2015 has flown by in a haze of good weather and terrific walking. Following on from last seasons rain we have had a prolonged drought but clear skys and fantastic vistas at every turn the only downside has been the water bill as Gail insists on watering her gardens!
We have welcomed over 500 guests to Montenegro in our villas and walking holidays and from just lazing by the pool to tackling the highest peaks in Montenegro everyone had a good time in this most laid back of countries. We did some amazing bespoke holidays for guests this year when our Safari Landrover was put to very good use in the high mountains and around Plav Lake. The point to point walks continue to be our most popular holiday and we can add just about anything to these walks for a truly local experience.
We are pleased to offer free return transfers from Podgorica and Dubrovnik airport on all our holidays for 2016 and we are sticking with the same range of walking as last season with the bespoke option always available for a combination of walks or a trip to a far flung corner of the country.
My daughter has dragged me into the present time and shortly I will have a Facebook page to update my winter walking and share photos etc with you all .. my tech prowess permitting!
Come and join us this coming spring, summer and autumn – Montenegro is a safe, relaxed and very interesting country with a Vista at every turn!
Happy walking
Hugh
We just wanted to say a big Thank you now that we have completed our holiday in Montenegro. We had a fantastic time and really enjoyed everything about the time we had there. The walks were brilliant and in such stunning areas. Thanks also for recommending the Hotel Conte in Perast, we had a great room looking out over the Bay.
Would you also say Thanks from us to Hugh who could not have been more helpful and accommodating.
Merchants Trail September 2017
We just wanted to say a big thank you for organising a great trip for us.
We loved the walking and the fabulous scenery and really appreciated how well organised the travel and accommodation was. We would never have found some of the places where we stayed on our own, and it was great to be able to just get up and go in the morning, knowing our bags would be waiting for us at the next destination.
We would not hesitate to recommend a Vista Trails holiday to anyone who was thinking of visiting beautiful Montenegro!
King Petars Footsteps September 2017
Thank you both very much for a wonderful holiday. Your kind, generous hospitality made our holiday. We thoroughly enjoyed Gail's excellent cooking and your company at dinner.
Thank you for chauffeuring us everywhere and for your guidance on the best places to visit. We really had a fantastic holiday !
Bespoke All Inclusive Villa Holiday September 2017
Great walks, great views, great weather, great holiday thank you Vista Trails it was superb.
Forts and Lake Skadar May 2017
Just wanted to let you know what a marvellous time we had in Montenegro.
Big thank you to you for your trail information – as Hugh said "you can't go wrong" we wavered a couple of times but soon got back on track. We loved the food, missed Gail's menus since we've been home! The whole arrangement at the villa was superb.
Who could not be inspired by such positive hosts, we were so lucky with our walking companions too. Intend to return next year for more challenges – hopefully with friends.
Will definitely recommend 'Vista Trails' to other adventurous souls.
Thank you for such a memorable holiday in Montenegro earlier this summer.
Our apologies for taking so long to write to you … it's been a busy summer holidays!…but we could not let this holiday go without sending our thanks and greetings to you. The holiday was one of our better ones, well organised, so interesting, so varied, plenty to see, lovely places to stay and good walking routes interspersed by the best boat ride ever and exhilarating train and taxi rides to end the week.
We have many, many fond memories of this holiday to linger on for many years… definitely one of the best!"
Montenegro Summer 2016
Many thanks for arranging a great walking trip for us. We enjoyed the walking and a return to Montenegro would seem to be a good idea. The Lake Skadar region would look to be worth exploring.
Lake Skadar Region
Flying into Tivat was so convenient and we were met with a real welcome ! The walking is just amazing views, views, views ! We will be back to try out the high mountains in 2017.
Try out the high mountains in 2017
A big thank you Hugh for organising our trip so well. We all enjoyed it walkers and partners who just took in the culture. Your knowledge of the country is amazing and we loved our visit to the winery and Andreas, what a character!
I highly recommend Vista Trails to anyone wanting a walking holiday that is a little bit different.
As one of the nimble pensioners! I wanted to say how much we all enjoyed our holiday in Montenegro with your company and family, nothing seemed to be too much trouble. Gail fed us like fighting cocks, the most delicious meals your house was extremely comfortable and Hugh gave us so much of his time and knowledge it was truly amazing. Our various trips were full of interest, such a beautiful country, hairpin bends taken in his stride, the most delicious ice cream in Tivat, and the boat trip was memorable as was the sighting of a Golden Eagle. Thank you all for giving us such a fantastic time. This will long be remembered as one of our best holidays.
September 2015 All Inclusive Bespoke
Thank you Hugh for looking after us so well we so enjoyed the walking and when Susie was ill everything was arranged so quickly with really good medical care which we did not expect at all ! We are going to come back to walk in Durmitor so see you soon.
King Petars Footsteps June 2015
Just to say what a great time we all had in Montenegro. The scenery was spectacular, the walking was always challenging, accommodation was great and Hugh seemed to have a surprise up his sleeve every day. Thanks again to you and Hugh for the most enjoyable holiday I've had in a very long time.
Sep 2014 Group - Montenegro Traveller Special
Thank you! Thank you for organising all this – but thank you too for your general expertise and detailed knowledge. My guess is that Hugh knows every single person of interest and influence in the whole hard-hat country, and you both went out of your way time after time to make things easier for us. It was deeply appreciated we feel as if, in just over a week, we discovered a whole country. That's an impressive gift to give to anyone, and goes far beyond the usual tourist arrangements.
August 2014 Bespoke High Mountain and Villa All Inclusive
Been looked after brilliantly from the word go, nothing too much trouble, and really enjoyed the last night in the Villa. Personal attention and flexibility made the week go so well, very relaxed, terrific walks, good accommodation, memorable boat trip and train, all in all marvellous and will recommend to all our friends!
June 2014 Bespoke Point to Point /MTS
We had a fantastic time thank you for organizing it all so beautifully.
May 2014 Villa All Inclusive
Lovely villa generous and gorgeous food and wine … we rate this as one of our best walking holidays.
May 2104 Villa All Inclusive
I am writing to thank you for all your help and kindness last week. We had a great time in Montenegro ..
Vista Trails has many happy clients who often return each year and we pride ourselves on making sure your holiday is special to you. We have been featured in the press such as the Independent, Country Walking Magazine & TNT Magazine.
May 2014 Merchants Trail
Dear Hugh, Gail and Sarah
Just safely back from the sailing coda (ha! not a breath of wind for three days, but still fun to motor round the islands) to our wonderful walking holiday in Montenegro, and wanted to thank you most warmly for all your hard work in arranging our trip and helping us out so generously while we were there. We were, as you predicted we would be, enchanted by Montenegro: the weather helped, but the scenery was majestic and the walking wonderfully varied and perfectly tailored to a group like ours – with a combination of a bit of tough here, a lot of scenery there, and a sense of history everywhere. We were particularly grateful for your help in sorting taxis for ….. and the fact that you were always cheerfully ready to help made a huge difference. It was a great pleasure to be ferried to and fro by Hugh: and I am glad that the rest of us had a chance to say hullo to Gail at our chance encounter on the road above Kotor. We bring back with us many treasured memories, and wish you the very best with the business in future. Everybody joins me in sending our very best wishes.
Group from London Merchants Trail Oct 2013
Dear Hugh
This is a belated 'thank you' for all your help and attention during our recent trip to Montenegro. It was very kind of you take Judy and I on an excursion down to Rijeka Crnojevica on that wet day after our stay in Cetinje. Also, it was great that you introduced us to Gayle.
We learnt a lot from you – about Montenegro but not least the travails of farming in the uk, an insight that you don't get from a casual encounter with The Archers!!
King Petars Footsteps Sep 2013
Dear All
Just a line to say how much we enjoyed the walk – it was all I hoped it would be. We have done many walks in our life and this was up there with the very best of them – the Milford and Routeburn in NZ, the Overland in Tasmania, the Cumbrian Way and Route St.Jacques. However, unlike these other walks, we had the paths in Montenegro almost entirely to ourselves. Stunningly, breathtakingly beautiful [and breath taking!] Do get in touch if your travels take you to Melbourne next year, it would be lovely to catch up and thanks again.
Group from Australia King Petars Footsteps Sep 2013
Hugh & Gail
Just to thank you for arranging our visit to Zabljak. We had a great time and thoroughly enjoyed ourselves. The Hotel MB was excellent and so was the walking. Please pass on our thanks to Hugh, who was great company and extremely helpful. He made our visit even more enjoyable. We would certainly have no hesitation recommending Vista Trails to anyone who enjoyed walking.
Zabljak Bespoke Holiday June 2013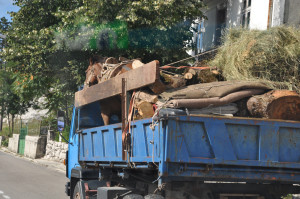 Hi Hugh, Back now at last after our Balkans adventure and many thanks from Liz and myself for a fantastivic sept 2013380c walking trip. It really was just what we wanted and thank Gail for spending so much time putting it all together for us. I thought you might like the photo of the two ponies and donkey plus all the kit in the lorry – for us that summed it up stuff you just don't see in the UK !
Bespoke Holiday July 2013